Nurses at Sutter Health are at the core of our relationships with patients and families, who trust us to provide them with the personalized care they deserve at the most vulnerable moments of their lives.
Our nurses helped create and embrace Sutter's Nursing Philosophy of Care, a foundation that blends with Sutter's core values to provide nurses with a unique and diverse environment where they can reach their full potential.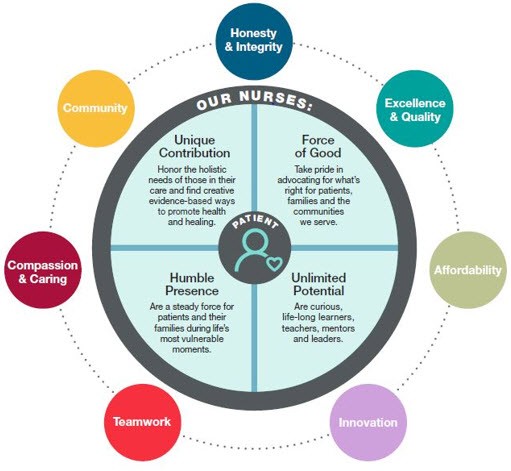 No matter what stage of your career, you'll find a culture where we care about one another and offer a vast range of choices and possibilities to work with some of the most talented clinicians in the country.
JOB TYPE: Full Time
JOB LEVEL: All Levels
TRAVEL: Home Health & Hospice Only
Benefits
Healthcare

Medical, dental, vision, life insurance

Paid Time Off

Holidays, sick days, leaves of absence

Continuing Education

Tuition Reimbursement and Professional Development

Corporate Discount and Perks

Exclusive pricing and discounts at a variety of retailers
Responsibilities
Job ID SCH-2106253
Date Posted 05/04/2021
Location Crescent City, California
Schedule/Shift Full Time/ Night
Position Overview:
The Registered Nurse in the Acute Care setting manages the patient/family experience through utilization of critical thinking, teamwork, effective communication, and nursing judgment/knowledge/skills.Provides indirect and direct care to patients ranging in age/developmental stages from infants (pediatrics) to geriatrics with the main focus on adults to geriatrics, in the Intensive Care Unit.Uses the nursing process of assessment, planning, implementation and evaluation to meet the physiological, psychosocial, safety, learning and self-care needs of patients and their families.Responsible for managing care of assigned patients and directing activities of ancillary staff.Responsible for comprehensive nursing care of patients in the critical care setting performed in association with nursing peers, physicians, and allied support services. Provides individualized, goal directed nursing care to patients through the use of the nursing processes & documentation from admission to discharge.This includes & is not limited to patient assessment by gathering information necessary to formulate a nursing diagnosis to be used as a basis for planning care consistent with formulated nursing diagnosis.Implements care that is skillful, efficient, safe & based on patient care standards by performing nursing procedure required for patient assignments, documenting the care given & changes in the patient's condition in accordance with standards.Anticipates & recognizes potential problems & intervenes appropriately by correlating data, test results, progress notes & patient condition.Evaluates the degree of effectiveness & makes changes as needs are recognized.Provides leadership by managing care through others using Standards of Practice (Joint Commission, Title XXII, Professional Practice Acts) & interpreting (or uses others to interpret) Standards of Practice to other staff which may include legal implications.Actively participates in professional growth opportunities & provides high quality customer relations.
Charge Nurse: The Charge Nurse serves as a role model and resource for other patient care staff.Is recognized as a leader by exhibiting fairness, honesty, flexibility, positive communication skills, empathy, competency, positive attitude and the ability to motivate others.
Qualifications:
Education:
Associates Degree Required
Bachelor's Degree in Nursing Preferred
EKG course completed before off of orientation
ECCO (essentials of Critical care orientation) completed within 365 days required
Experience:
Two years experience in a critical care setting preferred.
Supervisory/Charge experience preferred
Licensures and Certifications:
Registered Nurse - State Licensure – RNrequired
Certified Critical Care RN – CCCRNpreferred
Basic Life Support Certification - HealthCare Provider - BLS-HCP required
Advanced Cardiac Life Support – ACLSrequired
Pediatric Adv Life Support – PALSrequired within 180 days of hire
Skills and Knowledge:
Must have demonstrated knowledge of basic nursing skills and effective English written and communication skills.
Must demonstrate competency in critical care ensuring and knowledge of cardiac arrhythmias.
Working knowledge of critical care pharmacology.
Excellent communication and customer service skills.
Independently practices and prioritizes multiple demands in an ever-changing environment.
Good interpersonal, communication (both oral and written) and teamwork skills are required.
Organization:
Sutter Coast Hospital, Crescent City, CA
Employee Status:
Regular
Employee Referral Bonus:
No
Benefits:
Yes
Position Status:
Non-Exempt
Union:
Yes
Job Shift:
Night
Shift Hours:
12 Hour Shift
Days of the Week Scheduled:
Varied Days
Weekend Requirements:
Every Other Weekend
Schedule:
Full Time
Hrs Per 2wk Pay Period:
72
Applications Accepted:
All Applications Accepted
Sutter Health Affiliates are equal opportunity employers EOE/M/F/Disability/Veterans
This position may regularly work, store, prepare, receive, unpack, transport, dispose of, or administer drug(s) identified as hazardous, or potentially hazardous, by the National Institute for Occupational Safety and Health (NIOSH) for purposes of USP 800.
Fraud Alert: Please be aware of scams involving fraudulent job postings ...Learn more
Find a Career at Sutter
Our employees are shaping the future of healthcare. Find a career at Sutter.
Get Started