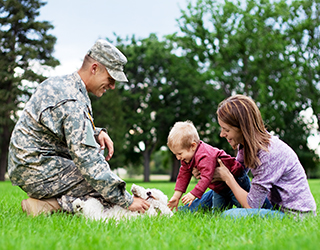 Supporting our Military and Veteran Staff
In 2017, Sutter Health established a system-wide Military and Veteran's Inclusion Resource Group (IRG) which has been embraced by the organization's senior leadership. The purpose of the IRG is to tap into the passions and care for the interests of its military and veteran staff members. Furthermore, policies have been in place at Sutter Health or its affiliates that allow for military leave as well as supplemental pay from Sutter Health to address any pay differential gaps during deployments.
Working with the community
The Sutter Health IRG honors it's military and veteran's and their families by performing flag-raising ceremonies on Veteran's Day at locations throughout Sutter Health's many affiliates. Furthermore, Sutter Health has donated over $300,000 over the past several years to military and veteran causes including but not limited to the Fisher House, Blue Star Moms, Disabled American Veterans, the American Red Cross, Rivers of Recovery, and the USO.
Helpful sites and information
Farah is a registered nurse at Sutter Health Palo Alto Medical Foundation. She is a veteran, having served nine years in the U.S. military.
Meet Farah Desai, RN
Find a Career at Sutter
Our employees are shaping the future of healthcare. Find a career at Sutter.
Get Started