Administrative Health Internship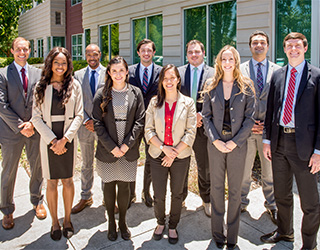 If you're in your first year in your MBA, MHA, or MPH program, spend your summer getting hands-on, specialized administrative experience as an intern at Sutter Health. In our program, you'll work on a 10- to 12-week project in settings ranging from acute care hospitals and ambulatory care environments, to medical groups and foundations.
Looking to understand the challenges facing today's healthcare delivery systems? An internship at Sutter Health will provide you with invaluable insight into the workings of our integrated, not-for-profit healthcare system.
Program Highlights
10- to 12-week summer program
Competitive salary and housing provided
One-on-one mentoring with our executives
Project Work
Below is a partial list of outstanding projects and initiatives in which past interns have played a major role in leading and/or collaborating at Sutter Health:
Lead a team of Directors to reduce the average bed-is-down
Conducted financial analysis to identify root causes for Skilled Nursing Facility costs
Develop process maps for transferring patients from outlying hospitals
Produced a project plan for Chief Nursing Executive's Brilliant at the Basic Project
Assisted COO at the Command Center with the CDPH General Acute Care Relicensing Survey
Eligibility
To qualify, you must be a U.S. citizen or permanent resident and you must be a current graduate student of an accredited university in the first year of a MBA, MHA, or MPH graduate program, with expressed interest in healthcare administration. Sutter Health is unable to sponsor work visas at this time and in the future.
Application and Selection Process
Application and Selection Process
Application submission dates: December 3, 2018 – January 11, 2019
Required Documents
Online, with application:
Resume
One-page statement of internship and career objectives
Sent separately:
Two letters of recommendation
Undergraduate transcripts
Optional Documents
Graduate transcripts
One-page statement of volunteer community activities
Submission Options
By Mail:
Original letters of recommendation and official transcripts can be mailed in a sealed envelope directly to:

Sutter Health
2700 Gateway Oaks Dr., Ste. 2500
Sacramento, CA 95833
Attn: Administrative Internship Program
By Email:
Letters of recommendation (submitted by author) and e-transcripts (submitted by registrar office) may be emailed to: Executive2@sutterhealth.org
Deadline
The application filing period starts on December 3, 2018. All required documents and online applications must be submitted by the deadline of January 11, 2019 in order to be considered for the Summer 2019 Program.
Find a Career at Sutter
Our employees are shaping the future of healthcare. Find a career at Sutter.
Get Started