Nurse Navigator - Breast Health
Nurses at Sutter Health are at the core of our relationships with patients and families, who trust us to provide them with the personalized care they deserve at the most vulnerable moments of their lives.
Our nurses helped create and embrace Sutter's Nursing Philosophy of Care, a foundation that blends with Sutter's core values to provide nurses with a unique and diverse environment where they can reach their full potential.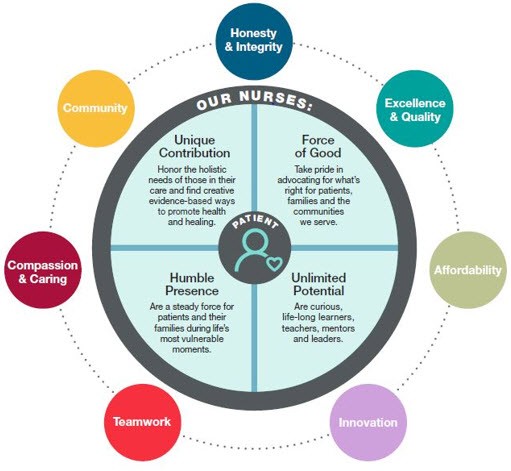 No matter what stage of your career, you'll find a culture where we care about one another and offer a vast range of choices and possibilities to work with some of the most talented clinicians in the country.
JOB TYPE: Full Time
JOB LEVEL: All Levels
TRAVEL: Home Health & Hospice Only
Benefits
Healthcare

Medical, dental, vision, life insurance

Paid Time Off

Holidays, sick days, leaves of absence

Continuing Education

Tuition Reimbursement and Professional Development

Corporate Discount and Perks

Exclusive pricing and discounts at a variety of retailers
Responsibilities
Job ID CPMC-1918917
Date Posted 10/10/2019
Location San Francisco, California
Schedule/Shift Full Time / Day
Position Overview:
Job Summary
The Oncology Nurse Navigator functions on the multidisciplinary team as the strategic point of contact for cancer patient and their families. The Navigator's primary function is assisting patients and families through the healthcare system by assisting with access issues, developing relationships with service providers and tracking interventions and outcomes with the goal of achieving optimal patient outcome. The Navigator serves as a point of contact for referring physicians, patients and caregivers to provide resources regarding accessing clinical and supportive care. The Navigator also assists patients in understanding their diagnosis, treatment options and the internal and community resources available and educates patients about appropriate clinical research studies and technologies.  Collaborates in the development and coordination of support functions related to cancer including but not limited to: multi-disciplinary Tumor Board, CPMC Cancer Board Committee meetings, support groups & counseling and patient resource development.  This position will be working in the Breast Health Center and Breast Cancer Navigator programs.
Accountabilities
1. SERVE AS A FOCAL POINT FOR CANCER PATIENTS.  NAVIGATOR WILL DIRECT PATIENTS TO THE APPROPRIATE RESOURCE OR RESEARCH ISSUE.
• Provides nursing support to the Breast Health Center by delivering biopsy recommendations based on interpretation by the Breast Radiologist. 
• Schedules patients, medication ordering and manages post biopsy complications.
• Deliver the breast cancer Diagnosis in a sensitive and timely manner.
2. DEVELOPS, IMPLEMENTS AND MONITORS THE CANCER NAVIGATOR PROGRAM.
• Develops and reviews policies and procedures related to the cancer navigation program
• Develops, implements and reviews process for Quality of Life Survey, Patient Satisfaction and other key outcome measures.
• Develops, implements and maintains a cancer navigator related database to track and report needs for program development.
• Develops, implements and maintains a profile of community resources for cancer patients, their families and caregivers.
• Identifies funding sources and actively pursues funding from within CPMC as well as community and government sources (grants, etc.)
• Promotes the program to assure access to patients in need of services.
• Coordinates and /or assists with the development of annual reports, resources guides and other department publications.
• Reviews & implements a risk assessment tool for Breast cancer patients.
• Assists with the tracking and monitoring of  center accreditation standards, Commission on Cancer guidelines
• Develop & complete standardized Survivorship Care Plans
3. PROMOTES SERVICE LINE PROGRAMS AND ACTIVITIES AND COMMUNITY OUTREACH.
• Serves as a resource for CPMC committees and other CPMC committees on cancer health concerns and issues providing education, resources and lectures as necessary.
• Develops and maintains collaborative relationships with appropriate physicians and medical groups, insurers, community and government agencies, and other appropriate organizations (e.g. American Cancer Society) to assist in meeting the needs of the clients.
• Assists in coordinating special projects, department events and on-site support for community events such as health fairs and screenings.
• Works with Breast Health Center Management and Breast Program Leadership in defining and monitoring quality measures and strategic goals for the program.
Qualifications:
POSITION REQUIREMENTS:
Education:
Bachelors required
Masters preferred
Other:
Current CA RN Lic required
BLS required
AOCNS (Advanced Oncology Certified Clinical Nurse Specialist) 
| | |
| --- | --- |
| Prior clinical nursing experience in an oncology setting required | |
| Prior experience as a navigator is desirable preferred | |
| Exp working with a variety of contacts within and outside of the workplace | |
| Strong project/program development and management experience preferred. | |
| Ability to manage group processes and build effective working relationships | |
Skills & Knowledge:
Knowledge of the overall cancer disease processes and treatment options.
Dynamic and motivating teaching style in individual and group teaching settings
Knowledgeable in adult learning styles and various teaching methods: ability to deliver educational programs to staff and the community
Strong customer service and interpersonal skills including demonstrated strong physician relations.
Knowledge of HIPPA regulations as they pertain to patient privacy and protected health information.
Strong organizational skills and ability to work with a minimal amount of supervision and effectively establish work priorities.
Self-motivated and proven ability to work both independently or effectively as a team with a variety of healthcare specialists.
Effective problem solving skills and ability to concentrate on multiple and varied tasks.
Excellent verbal and written communication skills' including proficiency in public speaking
Experience with multiple computer software programs including Microsoft Office (Word, Excel and PowerPoint) as well as other hospital based systems (EPIC).
Ability to develop materials involving graphics and tables
Organization: California Pacific Medical Center
Employee Status: Regular
Employee Referral Bonus: No
Benefits: Yes
Position Status: Non-Exempt
Union: No
Job Shift: Day
Shift Hours: 8 Hour Shift
Days of the Week Scheduled: Monday-Friday
Weekend Requirements: None
Schedule: Full Time
Hrs Per 2wk Pay Period: 80

Sutter Health Affiliates are equal opportunity employers EOE/M/F/Disability/Veterans
Apply Now
Apply Later
Find a Career at Sutter
Our employees are shaping the future of healthcare. Find a career at Sutter.
Get Started